Serrapeptase is distinguished for its amazing ability to dissolve scar tissue and inflammation in the body. Once the inflammation is cleared, the body is capable of naturally healing itself.

This powerful proteolytic enzyme helped thousands of people to find relief for their lung conditions; cleared blocked arteries, encouraged faster healing and saved many from countless surgeries.
Yet many still feel unsure about how safe serrapeptase is to give to their loved ones. Knowing the full benefits of this enzyme in their own lives, they still feel cautious when it comes to giving it to children and pets.
The good news is that serrapeptase is safe for children to take. They simply require a lower dose than adults. As a general rule:
Children under 10 should take 1-2 capsules/tablets per day.
Even babies can get the benefits of Serrapeptase! One can open up a capsule and add the contents to a small amount of water or non-protein food.
Serrapeptase may help to support the relief of common childhood illnesses such as eczema as part of a good health plan.
Serrapeptase may even assist with the fertility process and getting pregnant as Robert Redfern's daughters and daughter-in-law can testify.
"Like many of today's females I decided to leave having babies to later in life but then discovered having numerous problems with spontaneous miscarriages, which the medical system had no successful solutions for. Like many women, I was getting desperate and so I started on my father-in-law Robert Redfern's plan. It was not an obvious move for me but I did ask for help and took the supplement plan and diet recommendations on board. The plan was fine and I became pregnant.
Things were okay at first but on my first scan the medics noticed a growth and they said this was probably a fibroid. I increased the iodine drops and started following the diet to clear this, but I miscarried. I then decided to keep to the plan and the growth was gone in as little as eight weeks.
After this I took the plan extremely seriously and followed the diet which is critical. I stopped all carbohydrates and sugar, along with alcohol, and kept to the Really Healthy Foods plan as advised by Robert. The supplement plan was also tightened and improved. I became pregnant again and kept to the diet and plan meticulously. This time everything went like a dream and my son Jacob finally started his new life."
Sian Redfern, Robert Redfern's Daughter-in-Law
Serrapeptase is safe to take during pregnancy and breastfeeding. It can also help with breast engorgement and mastitis when breastfeeding.
Serrapeptase Is Safe For Pets
Serrapeptase is also safe for pets to take. It is vital to give your pet 1-2 Serrapeptase tablets a day for best results.
Depending on the size of your pet, you may give more (2-4 tablets). Open the tablets/capsules and mix in with a little food or water if necessary. Pets can have more, up to 6 per day for larger dogs as per the pot of SerraPet.
Serrapeptase Testimonials…
"Mr. Rich found out about Serrapeptase when his 13-year-old female dog was unable to walk and the drugs could do no more. With a few weeks of taking it she was up and walking again. Two years later at aged 15 she was still being kept mobile, safely without drugs and at a cheaper cost."
Difference in Mare's Tendon Injury
"I am currently giving it to my mare for a tendon injury, been on 8 tablets, 80,000IU, for almost 5 weeks and I am seeing a difference, in fact I saw a distinct change after 2 weeks."
Lesley W., Portugal
As these testimonials state, Serrapeptase works! There are no side effects and the results speak for themselves. It's why thousands of people turn to this natural enzyme to find relief for a wide variety of their health conditions
Now you can discover Serrapeptase's fantastic health benefits for yourself and learn more about how this enzyme can benefit over 240 health conditions.
Recommended Examples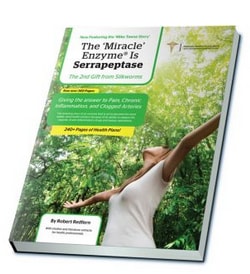 Discover this enzyme's many amazing health benefits in 'The Miracle Enzyme is Serrapeptase' book by distinguished health expert and nutritionalist Robert Redfern. In addition, this remarkable book also contains detailed plans for over 240 health conditions.
SerraEnzyme™ 80,000IU
– Contains 80,000IU of the Serrapeptase enzyme and available in delayed release capsules or enteric coated tablets. Serrapeptase helps dissolve inflammation and support the body's natural healing process.
SerraEnzyme™ 250,000IU
– This is a high strength formula containing 250,000IU of Serrapeptase. Thus, it helps in providing fast relief from inflammation and the symptoms of pain that can result in various health conditions.
Serranol™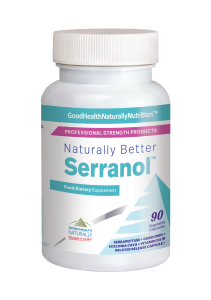 – This is a combination formula of 80,000IU Serrapeptase, Ecklonia Cava, CurcuminX4000™ and Vitamin D3. These core nutrients, combined together, can provide a super supplement that studies show targets dozens of health and age-related issues.
SerraPlus+™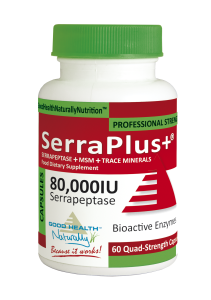 – This is a high dosage formula of 80,000IU delayed release Serrapeptase. In addition, it also has MSM and trace minerals. This is ideal for supporting normal lung, joint, tendon and connective tissue health.
SerraPet™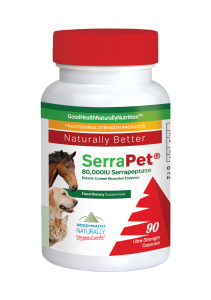 – Contains 80,000IU of Serrapeptase that can support the normal bodily processes of your pet or animal's health. SerraPet contains Nutrateric Enteric Coated tablets for optimum performance and powerful anti-inflammatory action.
*Please note that this is solely informational and educational about health and not intended as medical advice.