Fibrocystic Brease Disease affects over half of all women at some time in their lives. It is a very common condition that can include breast tenderness and pain. It's often characterised by lumps and discomfort in either one or both breasts.

Women over the age of 30 are thought to be most affected by Fibrocystic Breast Disease and this can continue throughout the perimenopause and the menopause itself.
One of the highest concerns about Fibrocystic Breast Disease is that it can lead to breast cancer. This is because the lumps in the fibrocystic breast condition can mimic and even mask the breast cancer.
The menstrual cycle can play a big factor in fibrocystic disease and it's the hormones such as estrogen and progesterone which can have a big effect on breast tissue. This results in the cells growing and multiplying.
Repeated hormone cycles, the accumulation of fluid, cells and cellular debris are all thought to be the main cause behind the condition. In other words, it is caused by inflammation within the body, causing painful lumpy breasts.
While fibrocystic breasts are not malignant, they can create small breast masses or breast cysts. They may be benign but the condition can vary in its severity. The condition is most thought to affect women between the ages of 30-50 and is often resolved after menopause.
There is no difference between fibrocystic breast condition and fibrocystic breast disease. While women can have more fibrocystic involvement in one breast than the other, eventually both breasts can become fibrocystic.
Healing Fibrocystic Disease with Serrapeptase
Fibrocystic Breast Disease is fundamentally caused by inflammation with the breasts. This can be relieved by following a dedicated health plan to provide relief for fibrocystic breast disease condition. Maintaining a healthy lifestyle is one recommendation so as to keep the body in an alkaline state as possible.
Another suggestion is to take the Serrapeptase enzyme. This is a natural solution that can often provide immediate anti-inflammatory action in areas of the body that most require it.
Serrapeptase works as a protrolytic enzyme to safely dissolve and digest the fluid and cellular debris that has built up within the breasts as inflammation. It is then naturally excreted by the body, usually via the liver or kidneys.
Once the inflammation is removed, the breasts naturally begin to heal themselves and the sufferer can find relief. It's also recommended to support the hormonal system during this process, by taking a natural progesterone cream to soothe into the affected areas.
Consider following the Fibrocystic Breast Disease health plan and it's recommended nutrients for best results. When the plan is followed consistently along with taking the Serrapeptase enzyme and massaging Natragest cream into the breast area daily, it's possible to find natural relief for fibrocystic breast disease.
Recommended Examples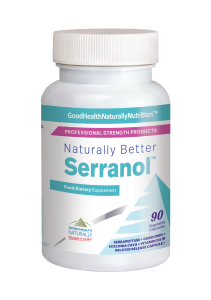 Serranol™ – Take 2 capsules x 3 times per day. Take 30 mins before eating a meal with water. Reduce to 1 x 3 after a good relief. Contains SerraEnzyme, Serrapeptase, Curcuminx4000, Ecklonia Cava (Seanol) and Vitamin D3. Available from Good Health Naturally.
NatraGest™ – Natural, ultra-rich progesterone cream. Helps with regulating the hormonal system. Available from Good Health Naturally.
Nascent Iodine – In its atomic form — consumable and paramagnetic — is highly preferable to its molecular form. This is the form of iodine that is well-recognised by the thyroid and easily used. Helps to improve thyroid health and support hormone production. Available from Good Health Naturally. Available from Good Health Naturally.