Free Subscription To the Freshest Health News And Tips
Hide this
What Is Serrapeptase Good For..? A Simple Enzyme To Support Your Wellbeing
Serrapeptase has increased in popularity over the years, as more people have become familiar with its health benefits. As a naturally occurring proteolytic enzyme, Serrapeptase can safely dissolve inflammation and dead scar tissue, leaving the healthy tissue intact. As inflammation is the main driving factor behind various health conditions, it makes sense that once the inflammation is removed, the body can naturally begin to heal itself.
What is Serrapeptase?
Derived from the silkworm intestine, it is now manufactured synthetically in a laboratory and is renowned for its numerous benefits. Supported by various scientific studies, Serrapeptase has been shown to be safe to use on a regular basis. Doctors in Germany and Japan have even sold Serrapeptase as a safe and ethical medicine, but some at very low doses. Commonly used for its anti-inflammatory properties, the research and thousands of testimonials show that Serrapeptase has been shown to be beneficial for lung health conditions especially chronic asthma and bronchitis [1, 2]
What Is Serrapeptase Good For? Known Health Benefits And Uses
Lung health sufferers may therefore receive natural relief from their conditions such as COPD, emphysema and any kind of health problem or air blockage where inflammation is present. This includes relief for symptoms relating to mucus, sinusitis and swelling. [3,4,5]. Other health conditions where Serrapeptase may be beneficial include autoimmune diseases, dysfunction of the brain and mind, heart problems, digestive distress, ear, nose, and throat disorders and even eye health conditions such as cataracts, glaucoma and macular degeneration. Women have also reported achieving natural relief for their blocked fallopian tubes and even obtained a successful pregnancy. Blocked fallopian tubes and conditions such as endometriosis are are their core, caused by inflammation. Remove the inflammation and natural healing can occur.
Natural Relief For A Range of Health Conditions
Other female health problems such as breast engorgement may benefit from taking Serrapeptase [6] while men's issues such as prostate health problems can improve too. Anyone with chronic skin health problems such as acne, eczema or psoriasis may all find natural relief thanks to Serrapeptase's anti-inflammatory properties. Muscle pain such as fibromyalgia, joint pain such as arthritis (rheumatoid, juvenile arthritis and osteoarthritis) can all improve with Serrapeptase use. Taking Serrapeptase may even be beneficial for cancer according to some studies. [7] Research also suggests that Serrapeptase may be able to improve brain health by successfully modulating some of the characteristics of Alzheimer's disease. Indeed, studies show that inflammation of the brain is the main driving factor behind Alzheimer's. One recent study shows that memory loss could be prevented by reducing brain inflammation, so the two are [8,9]
Why Choose Serrapeptase?
Along with its thousands of happy users and over sixty years worth of research showing Serrapeptase's natural anti-inflammatory properties, the enzyme has been shown to be a much safer alternative to over-the-counter NSAIDs such as ibuprofen, aspirin, naproxen and salicylates – all of which may have fatal side effects with long-term use. What is serrapeptase good for? Its clear that Serrapeptase provides a safe and effective alternative to drugs when it comes to reducing inflammation. Used as part of a healthy lifestyle, preferably following a ketogenic diet to lower inflammation in the body, its possible to find natural relief to a wide variety of health conditions and to enhance your general wellbeing.
References:
[1] T. and Mitsui, S. Effects of Serrapeptase in dissolution of sputum, especially in patients with bronchial asthma. Jap.Clin. Exp. Med. 49:222-228, 1972.
[2] Kase, Y. et al. A new method for evaluating mucolytic expectorant activity and its application. II. Application to two proteolytic enzymes, Serrapeptase and seaprose. Arzneimittelforschung 32:374-378,1982
[3] A technique for quantitative cytology of nasal secretions. Eur Arch Otorhinolaryngol. 1991;248(7):406-8.
[4] Y. et al. Effects of orally administered drugs on dynamic viscoelasticity of human nasal mucus. Am. Rev. Respit. Dis. 141:79-83.1990.
[5] Effect of the proteolytic enzyme serrapeptase on swelling, pain and trismus after surgical extraction of mandibular third molars. Int J Oral Maxillofac Surg. 2008 Mar;37(3):264-8. doi: 10.1016/j.ijom.2007.11.011. Epub 2008 Feb 12.
[6] Kee WH. Tan SL, Lee V. Salmon YM. The treatment of breast engorgement with Serrapeptase: a randomised double-blind controlled trial. Singapore MedJ. 1989:30(1): 48-54.
[7] Konig, W.: Enzyme therapy in the treatment of viral diseases and carcinoma. 38, 1989, 455-459.
[8] Serrapeptase and Nattokinase intervention for relieving Alzheimer's disease pathophysiology in rat model. Hum ExpToxicol. 2013 Jul;32(7):721-35. doi: 10.1177/0960327112467040.
[9] https://onlinelibrary.wiley.com/doi/abs/10.1002/glia.23779
Recommended Reading
Recommended Examples
SerraEnzyme™ 80,000IU
– Contains 80,000IU of the Serrapeptase enzyme and available in delayed release capsules or enteric coated tablets. Serrapeptase helps dissolve inflammation and support the body's natural healing process.
SerraEnzyme™ 250,000IU
– This is a high strength formula containing 250,000IU of Serrapeptase. Thus, it helps in providing fast relief from inflammation and the symptoms of pain that can result in various health conditions.
Serranol™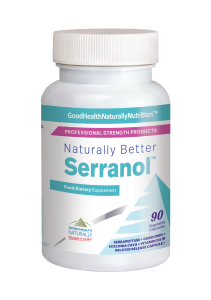 – This is a combination formula of 80,000IU Serrapeptase, Ecklonia Cava, CurcuminX4000™ and Vitamin D3. These core nutrients, combined together, can provide a super supplement that studies show targets dozens of health and age-related issues.
SerraPlus+™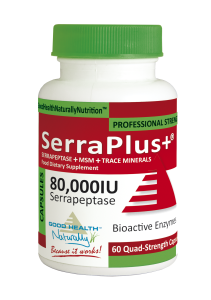 – This is a high dosage formula of 80,000IU delayed release Serrapeptase. In addition, it also has MSM and trace minerals. This is ideal for supporting normal lung, joint, tendon and connective tissue health.
SerraPet™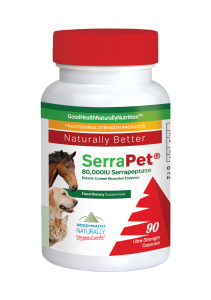 – Contains 80,000IU of Serrapeptase that can support the normal bodily processes of your pet or animal's health. SerraPet contains Nutrateric Enteric Coated tablets for optimum performance and powerful anti-inflammatory action.
*Please note that this is solely informational and educational about health and not intended as medical advice.